October 17, 2022 5:12 pm
Debitos' Office opening in Milan
Milan – October 14, 2022: Debitos, the leading secondary debt market in Europe, has officially opened its office at Copernico S32, the coworking fintech hub in Milan for start-ups and scale-ups, located at Via Sassetti 32. Francesco Paolo Bellopede, Debitos' country director for Italy, will lead the branch and head the team in Italy. Francesco Paolo Bellopede, Country Director at Debitos. "Italy and Southern Europe will be our primary markets for Debitos growth over the coming years. We expect increasing transaction volumes from Banks, Servicers and strategic partners in Italy and the first branch opening in Milan coupled with our hiring plans represent crucial factors to assist our current and future clients in NPL and UTP transactions"
Debitos' proprietary technology has developed an online marketplace for pan-European secondary debt transactions. A consistent pipeline of credit transactions has been secured in Italy, through strategic relationships with banks and loan servicers. In particular, Debitos' transaction pipeline accelerated through the strategic partnership with doValue, the leading loan servicer in Southern Europe, which led to the development of doLook, the pan-European online credit marketplace, in April 2020. The doLook platform allows investors to conduct due diligence, price negotiation and transaction closing on a loan-by-loan basis seamlessly between counterparties cross-border. Debitos has also expanded the credit products sold on its proprietary platforms, specifically unlikely-to-pay (UtP), to keep pace with emerging trends and open up to new transaction flows and specialised investors.
"Opening a branch in Milan was a natural step for our business," says Timur Peters, founder and CEO of Debitos. "Given the expansion of our business activities in Italy it was important to have a presence for our clients and to support our further growth ambitions in the Italian market."
"As a FinTech company it is crucial for us to keep pace with emerging trends and constantly enhance our service offering to provide cutting-edge technology and innovative solutions." says Ulrich Sprenzel, CFO/COO of Debitos. "Thus I am very happy that we opened our Italian Office at Copernico S32, the FinTech hub in Milan."
We do not want to miss the chance to thank all our guests who attended the office opening and shared this special event with us.
The Debitos team.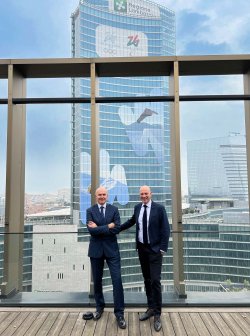 back